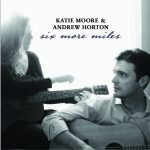 Katie Moore and Andrew Horton are very excited to their a duets album they recorded in Montreal in February with friends Joe Grass (dobro and mandolin), Sage Reynolds (bass), Alex Kehler (nycklharpa and fiddle), with Warren Spicer engineering.
The duo are taking the cd on the road this week — to Manitoba and Saskatchewan. Dates below. Details available here: homeroutes.ca/artists/katie-moore/
Hope to see you there, or send a friend!
March 2 Winnipeg
March 3 Minnedosa, MB
March 4 Fort Qu'Appelle, SK
March 5 Buena Vista, SK
March 6 Regina
March 7 Regina
March 8 Wolseley, SK
March 9 Brandon,MB
March 10 Bossevain, MB
March 11 Cartwright, MB
March 12 Altona, MB
March 13 Winnipeg
March 15 Hausa MB