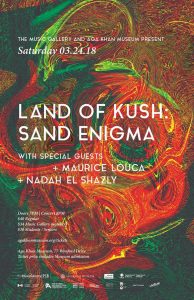 I am pretty excited to be part of another Land of Kush performance. We'll be playing in Toronto March 24 at the Aga Khan Museum and April 2 in Montreal at the Sala Rossa.
Here's a little info about the project, from the Aga Khan Museum's website:
Land of Kush is a large ensemble assembled and directed by composer and musician Sam Shalabi. A key figure in the Cairn and Montreal jazz and free-improv scenes, Shalabi has gathered a powerhouse group of musicians, comprised of two Cairo natives on the cutting edge of the regional music landscape and a cast of musicians from Montreal's Mile End scene, centred around Constellation Records who are among some of Canada's most forward-thinking contemporary performers.
Producer/multi-instrumentalist Maurice Louca and singer/electronic musician Nadah El Shazly join members of such bands as Broken Social Scene, Hylozoists, Set Fire To Flames, and more, as well as santur player Amir Amiri, who recently performed at the Museum.
Among Shalabi's many projects, Land of Kush is the most ambitious and impressive: described as "alive in ferocious form," the group, which involves more than 30 musicians and two dozen different instruments, has never performed outside of Quebec. Land of Kush has released three albums, the most recent of which, 2013's The Big Mango, is Shalabi's "love letter to Cairo" written in the wake of his extended stay in the city during the events of the Arab Spring.
ARTISTS
Sam Shalabi – oud
Nadah El Shazly – vocals
Maurice Louca – synth, keyboards
Amir Amiri – santur
Elizabeth Anka Viagic – vocals
Pierre Guy Blanchard – percussion
Michel Bonneau – percussion
Devin Brahja Waldman – alto sax
Dina Cindric – piano
Pat Conan – drums
Jonah Fortune – bass
Dave Gossage – flute
Gen Heistek – viola
Maya Kuroki – vocals
Elizabeth Lima – clarinet, vocals
Vicky Mettler – electric guitar
Mark Molnar – cello
Katie Moore – vocals
Sarah Page – harp
Anthony Seck – setar
Jason Sharp – baritone sax
Alexandre St Onge – electronics, voice